*Automailer is still in beta; if you're interested in future beta releases, please enable Grow Labs.
Automailer is a feature that puts weekly emails on autopilot - instead of manually crafting and sending each email, Automailer will handle the process for you! This makes it easier to stay in touch with your audience with very minimal effort and time.
When Automailer is enabled, your readers may receive a Double Opt-in notice.
What is Double Opt-In?
Double opt-in is a process used to confirm that a reader wants to receive emails from a publisher after subscribing to their newsletter.
The process involves two steps:
1. The reader provides their email address and requests to receive emails
2. The reader receives a confirmation email asking them to confirm their subscription
This process is designed to help ensure that the person who has signed up for emails is the actual owner of the email address and that they want to receive emails from the publisher.
Why is Double Opt-In Important?
Double opt-in is important because it helps to prevent email addresses from being added to mailing lists without the owner's consent. This is known as "spoofing" or "spamming".
Spoofing can lead to a person receiving unwanted and unsolicited emails, which can be frustrating and time-consuming.
When a person confirms their subscription, it provides a clear indication that the email address is valid and the owner is interested in receiving emails from the sender.
Overall, this helps to protect the sender's reputation and improve email deliverability.
How is Double Opt-In Enabled?
There are two scenarios that will enable Double Opt-In:
Location- All non-U.S. subscribers will automatically receive a double opt-in email due to current compliance laws.
Complaint rate- If your site's complaint rate climbs too high, double opt-in will be automatically enabled for US subscribers.
What does the Double Opt-In email look like?
If double opt-in has been enabled, readers that sign up for your subscribe list will receive an email that looks something like this: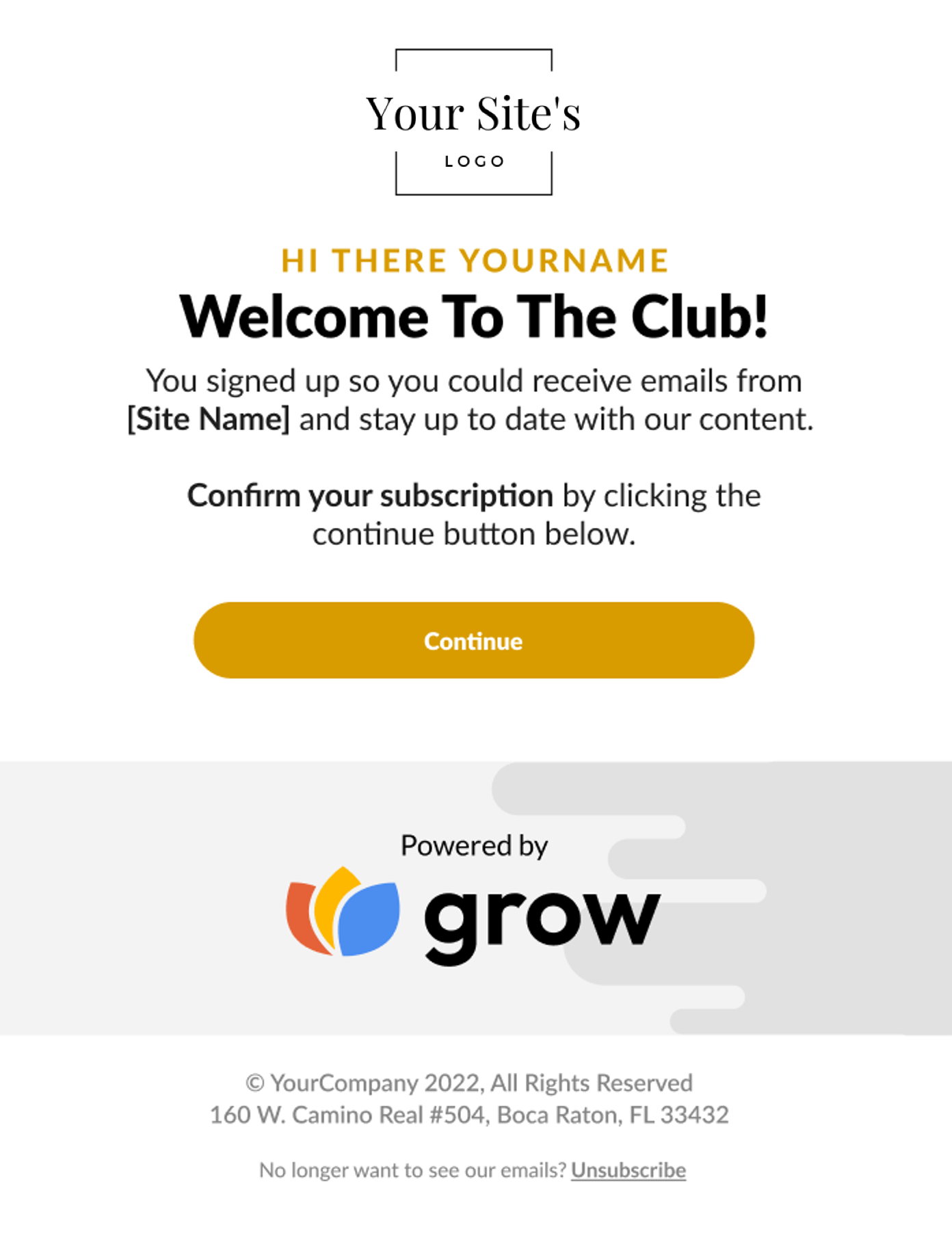 Once the reader clicks "Continue", they will then be added to your subscriber list.