Learn more about the Grow settings in your dashboard.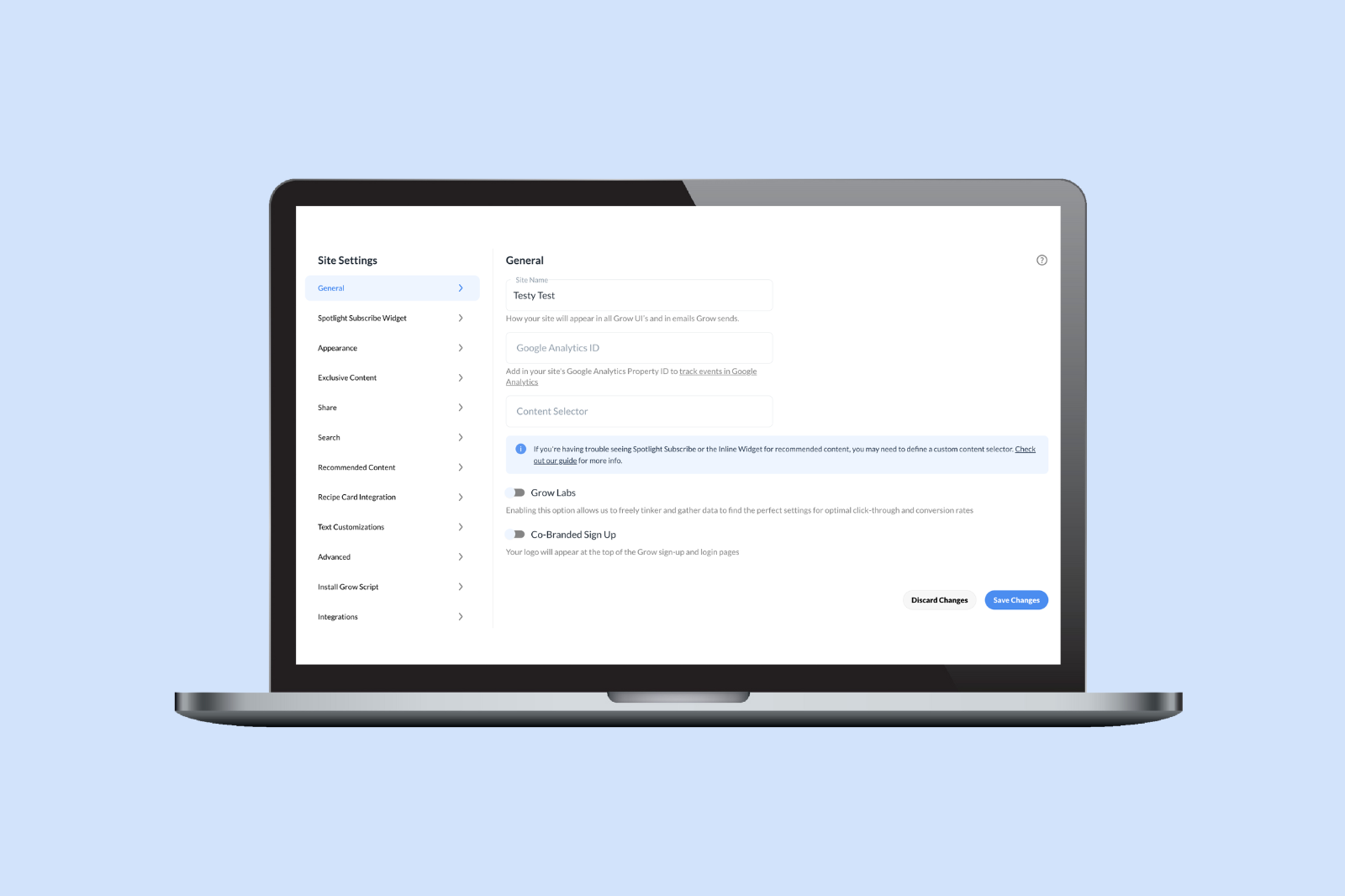 General
Change your Site Name, add UTM Parameters to your links, add a Content Selector (if needed), enable Grow Labs, or Co-Branded Sign Up here!
Learn more about the General Settings.
Subscribe
Subscribe allows your readers to sign up for your newsletter while also prompting them to create an account, or if they already have an account, to log into Grow.
It only takes a few steps to set up and you'll have a high-performing email opt-in on your site in no time.
Learn more about the Subscribe Settings.
Appearance
Be sure to set up your Grow widget with your brand colors, and decide on widget size and placement.
Learn more about the Appearance Settings.
Share
Change up your Grow widget with what Share settings you'd like to show your readers.
Learn more about the Share Settings.
Search
With one click, offer your readers an easy way to search your site.
Learn more about the Search Settings.
Recommended Content
The Recommended Content widgets and carousel will display personalized content and give users a better browsing experience and encourage them to authenticate and consent to personalized advertisements.
You can add Recommended Content widgets in different locations throughout your site on desktop and mobile.
Learn more about the Recommended Content Settings.
Recipe Card Integration
Using Create, WP Recipe Maker, or WP Tasty for your Recipe Card? Turn on this integration to add another Save Button for your readers.
Learn more about the Recipe Card Integration Settings.
Text Customization
Customization your text for your widgets in no time.
Learn more about the Text Customization Settings.
Advanced
Have other widgets or elements on your site that Grow is overlapping? No worries! We offer ways to help make sure it plays nicely with them all.
Learn more about the Advanced Settings.
Install Grow Script
Check here to make sure that you've installed the Grow script correctly on your site. You'll see a checkmark if you're all set!
Integrations
Grow has some awesome 3rd Party ESP Integrations you can connect to make your Subscribe experience as painless as possible.