Have you added Grow to your site, customized your appearance settings, and set up Co-Branded Sign Up, but now don't know what to do next? If your site is in the family and parenting niche, we'll cover the best practices to make sure you're getting the most out of Grow!

Subscribe
Swap out all existing subscribe forms with Grow Subscribe forms to make sure you're obtaining reader consent to collect first-party data. There are several Subscribe form types to fit your desired setup.
Spotlight Subscribe. This is an in-content call to action with conversion rates nearly three times as high as traditional methods.
Popup Subscribe. If you have printable or recipe content popup subscribe is perfect for your audience.
Enable Subscribe Action Pack. These are additional opportunities for readers to subscribe appear when readers interact with Grow's widgets, like when they bookmark your posts for later, and can help you build your superfan audience more quickly.
If your site covers different topics, you can create category-specific Subscribe forms then add them easily to the category's posts using Category Targeting.
Pro tip: Set up multiple newsletters and deliver your readers the content they're most interested in. You can use your Email Service Provider Integration to tell Grow which newsletter to send for each individual Subscribe form!
Make sure your Subscribe forms are as specific as possible. Use the description to let subscribers know what kind of content to expect and how often and establish a personal connection with your readers.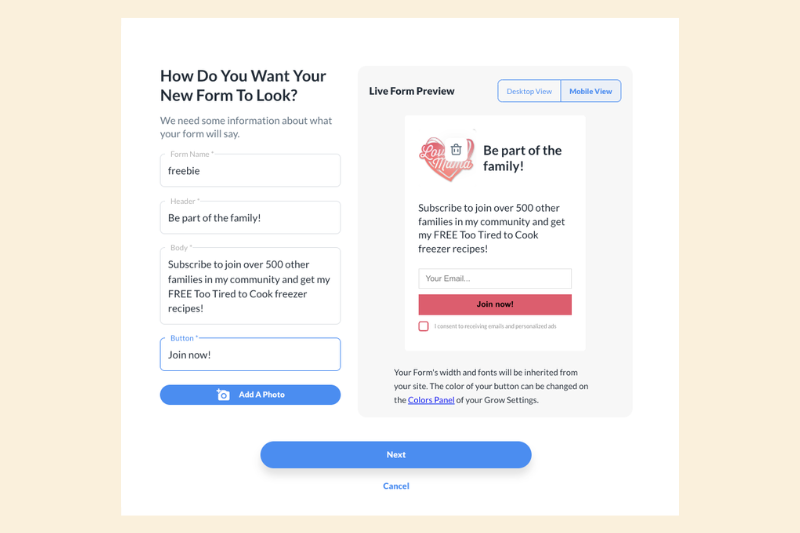 Recommended Content
Enable Inline Recommended Content and Sidebar Recommended Content. Inline Recommended Content and Sidebar Recommended Content will serve you best for desktop readers. If you have over 15% desktop traffic, you should enable at least one of these widgets.
Enable What's Next on Mobile. Since most of your readers are on mobile devices, this increases the chances of them clicking through to a second or third post!
Exclusive Content
Exclusive Content should be used for content such as printables, parenting cheatsheets, and other freebies your readers can benefit from!
Place Exclusive Content widgets directly below your post's Most Valuable Content. Making sure you place Exclusive Content where the most readers can see it should lead to the best conversion rate.
Exclusive Content is amazing for encouraging your readers to log in and make a Grow account while simultaneously subscribing to your content. Your readers will also subscribe and consent to being served personalized ads to access the download after scrolling through your full post and your display ads.
Pro tip: Some ideas for Exclusive Content are activity checklists, meal plans, and rainy-day kids games!
You can read more about how to best use Exclusive Content on your site here!